BUY OBAGI HYDRATE FACIAL MOISTURIZER
Buy Obagi Hydrate Facial Moisturizer ,The Obagi Hydrate Facial Moisturizer from the pioneering Obagi Nu Derm System is an innovative moisturiser designed to combat the signs of ageing. With particular potency at reducing fine lines, wrinkles and crow's feet this high-quality product from Obagi Medical will improve your skin's appearance whilst leaving it feeling healthy and hydrated.
Non-irritating, non-sensitizing and allergy-tested formula.
Provides all day hydration.
Suitable for all skin types.
LONG-LASTING HYDRATION
Obagi Hydrate constitutes a revolutionary formulation made up of cutting-edge and proven ingredients. One such component is Hydromanil, a technologically advanced ingredient derived from tara seeds, which drives the hydrating action of the product. Hydromanil molecules form a matrix on the surface of your skin allowing them to remain on your cells' surfaces for longer. This mechanism of action enables the advanced ingredient to retain water and gradually deliver moisture to the skin throughout the day by continually releasing active compounds. Obagi Hydrate's specialist formulation has been proven to protect your skin against dehydration for up to 8 hours.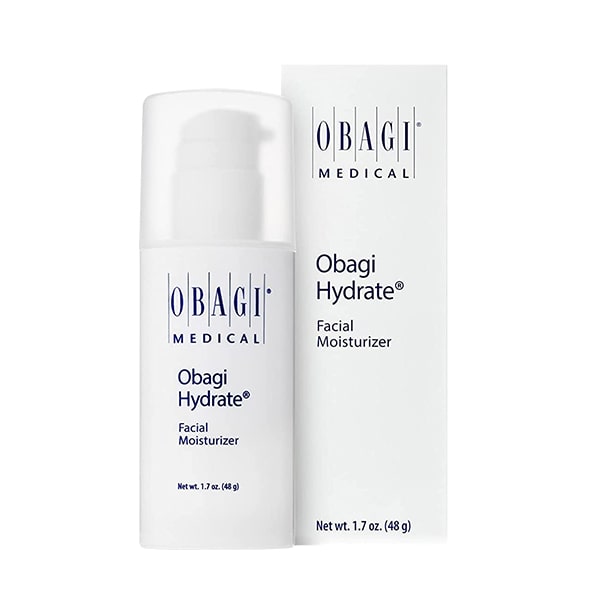 OBAGI HYDRATE IS IDEAL FOR ALL SKIN TYPES
As a dermatologist-tested moisturiser, Obagi Hydrate is perfect for all skin types, ranging from oily to sensitive skin.
A REJUVENATING MOISTURISER
As one of the bestselling Obagi products, Obagi Hydrate Facial Moisturizer can be easily integrated into your skin care routine. In addition, it delivers outstanding rejuvenating and all-day moisturisation as it holds water at the surface of your skin, all whilst being suitable for every skin type.
Make sure you don't miss out on the powerful anti-ageing action of Obagi Hydrate. Why not try it as a standalone product that you can integrate into your skin care routine or try it as part of the Obagi Nu Derm System, we are sure you will not be disappointed.
HOW TO USE
Introduce Hydrate as part of your regular skin care regimen, apply Hydrate in the morning and evening to help protect your skin. Hydrate is also designed to work optimally with the Obagi Nu Derm System—especially if you are experiencing dry, flaky skin as your skin undergoes transformation, Hydrate will help provide relief and comfort.
Nu-Derm programmes
Below are examples of three systems commonly used, but these systems can also be adapted if required.
Gentle Programme
As part of the gentle system the skin is cleansed and toned morning and night, followed by a 10% Vitamin C serum. The active products (Clear, Exfoderm, Blender and Tretinoin) are used two to three days a week, to minimize redness and flaking. It is recommended to use 0.05% Tretinoin with this system as it is less irritating. The eye creams and décolletage creams can be used everyday with this system. When you purchase products you can contact our skin expert to tailor a programme specifically for your needs.
Standard Programme
This programme can be a little more irritating but will achieve results more quickly. Active products are used every day, and with this system it is recommended to use 0.1% Tretinoin. At any stage products can be reduced if reactions are too intense.
Aggressive Programme
Obagi Nu-Derm – What to Expect
During treatment you can expect to experience four phases as you undergo transformation to a more healthy and younger-looking appearance. The length of time between the phases will vary based upon multiple factors including patient age, skin type, amount of damage and daily compliance.
Out with the Old
The Obagi system penetrates the deepest layer of skin to correct the signs of aging. During treatment you may notice:
Freckles, age spots and uneven dark patches beginning to fade
Redness, dryness and flaking of skin
Acne or wrinkles may look worse temporarily
These are all normal reactions and indicate that the treatment is working. This phase typically lasts for up to 6 weeks during which time you will notice a visible improvement.
In with the New
As stimulation continues, you begin to notice significant improvements in your skin. Normal healthy cells are moving to the skin's surface faster, melanin cells are distributed more easily and collagen and elastin production is increased. You can expect to see:
Reduction of wrinkles
Further fading of freckles and dark spots
Tightening of pores
Subsidence of redness and flaking
As the skin begins to tolerate the products and the reactions subside, your skin will look and feel much improved.
Healthy Glow
All skin cells are in the process of transformation and receiving an increased supply of nutrients. Healthy, strong collagen and elastin production continues and skin is smooth, naturally hydrated, evenly coloured and more resilient. Your skin is now looking and acting healthier and younger.
The New You
You have now achieved healthier and younger looking skin, with the help of the Nu-Derm System. To maintain your skins condition, it is important to integrate Nu-Derm as a permanent part of your daily skincare regime. By continuing with the treatment protocol, you can expect to:
Maintain skin that is healthy and youthful
Help to prevent future damage
Improve the anti-aging effects of your daily routine of skincare
*Disclaimer: results may vary from person to person